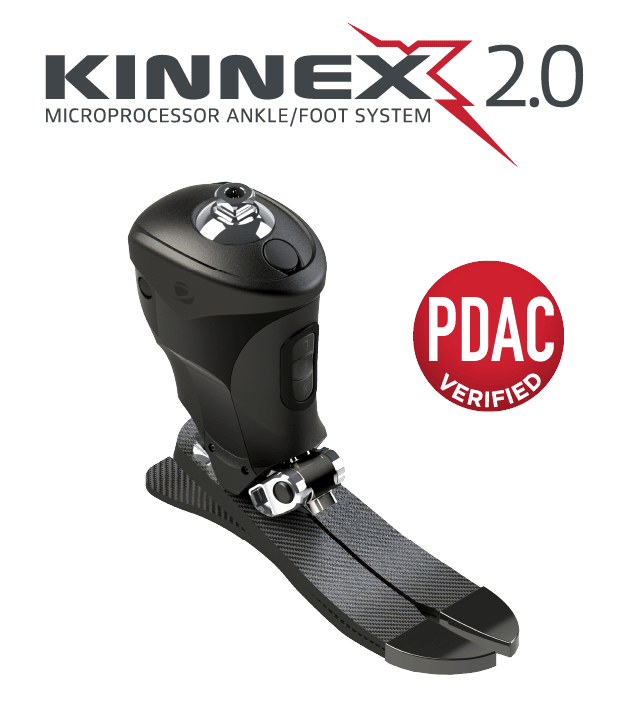 Designed for real life… without compromise.
Sophisticated microprocessor ankle innovation combined with PROTEOR's carbon fiber foot
technology provides users a uniquely stable and natural walking experience whether on flat, angled, smooth or uneven terrain. Kinnex 2.0 builds on this foundation with improvements in hydraulic system design, improved user experience and added product testing.
The Kinnex integrates the world's fastest responding microprocessor ankle/foot technology and carbon fiber to provide low to moderate impact K3 ambulators the stability they expect — instantly. Unmatched ground compliance, improved comfort, and available heel height adjustments keep users firmly grounded and connected, wet or dry.
Designed for low to moderate impact K3 level ambulators that require unsurpassed ground compliance for everyday activities.
• Water ingress certified- IP67 rated for occasional submersion in water.
• Sophisticated microprocessor controlled resistance that helps optimize stability whenever changes in terrain or cadence occurs.
• Accommodates heel heights from 0-2" and allows user to program up to 100 shoes.
• 30° of microprocessor-controlled motion 20° plantar flexion / 10° dorsi flexion allows the ankle and foot to be ideally positioned in relation to the ground.
• A full length sole plate without bolts ensures seamless stance phase roll-over for superior comfort.
• GaitLab App for prosthetist use to set up the patient using a smart phone device (available on iOS and Android).
• Freedom Innovations App for the user to monitor battery status, make heel height adjustments, select shoes, and fine tune performance and comfort settings.
• User weight rating of 275lbs, 36-month warranty (optional 2 year warranty extension available at time of purchase).
• PDAC Verified L-Code(s): L5973
Item

Weight (27 Cat 4, module only)
*Build height based on size 27cm Cat 4 foot module with foot shell and 10mm heel height. Sandal-toe available for sizes 22-28cm.
Module selection according to activity and weight
NOTE: Increasing category numbers indicate increased keel response.