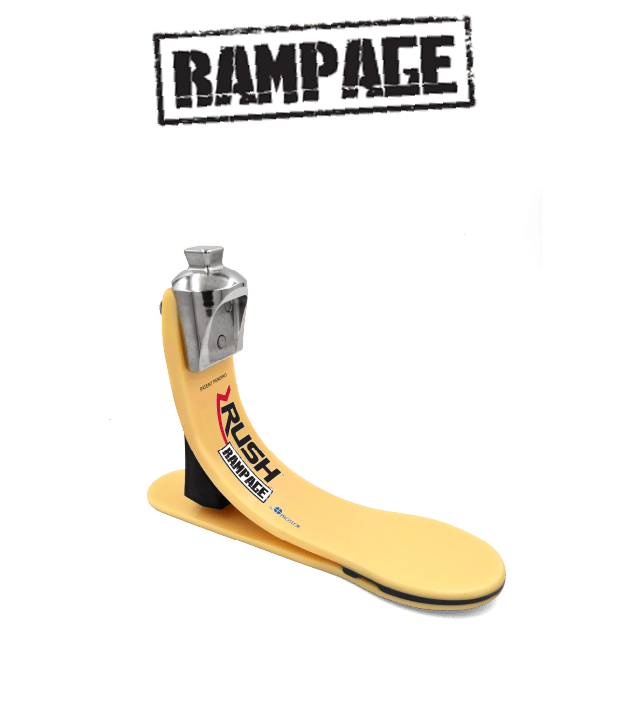 The RAMPAGE® has arrived. We've taken the smooth roll-through, increased comfort, and all-terrain capability of its predecessors and created a new, more cosmesis-friendly option, with a lower overall product weight. The RAMPAGE® is the perfect solution for individuals seeking a blend of both cosmetic, and high-performance capabilities.
• Cosmesis-ready to meet your aesthetic preferences.
• Lower overall product weight.
• Smooth roll through with unparalleled energy return.
• Biometric ankle motion simulates natural gait, increasing patient comfort.
• Extreme reliability for any use in any environment.
The RAMPAGE is also available in the EVAQ8 Elevated Vacuum and H2O models.
Are you ready to RAMPAGE?
• Recommended L-Code(s): L5987, L5986
Item

Weight (26 Cat 4, with foot shell and spectra sock)
*Build height based on size 23cm, 26cm, or 29cm Cat 4 foot module with spectra sock, foot shell and 10mm heel height.
Module selection according to activity and weight
NOTE: Increasing category numbers indicate increased keel response. FOR BILATERAL PATIENTS: Increase by one category for added stability.