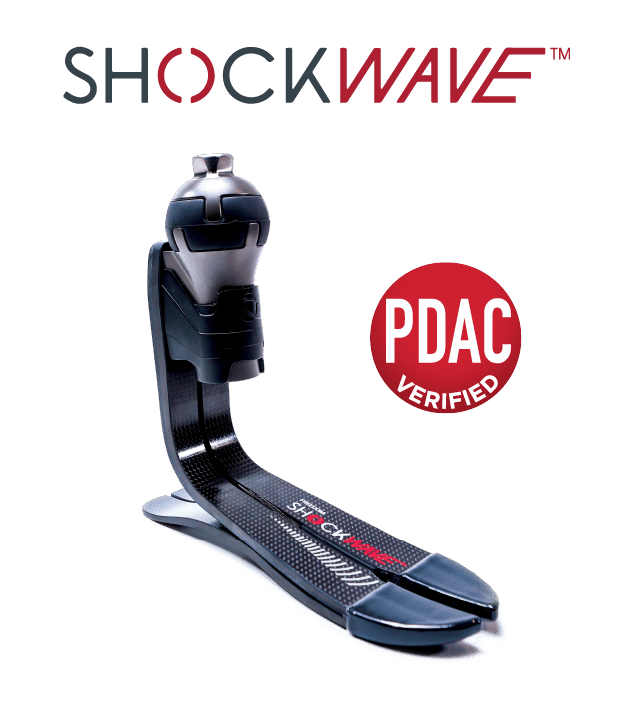 Pure Excitement
Confidence for an active lifestyle—and the freedom to move as responsively as K3/K4 ambulators want
to—are now possible with the premier Shockwave™ carbon fiber foot from PROTEOR. Provides a
shockingly smooth experience during high-impact activities, due to an advanced, multi-functional
Spherical Shock Unit for ultimate vertical shock absorption.
Move more naturally: Allows a more natural gait by providing ultimate shock absorption at heel strike, which eases stress on the residual limb.
Trust every step: Adds confidence when navigating diverse terrains with a split keel and heel to enable greater motion—improving stability and comfort.
Lasting reliability: Lighter, more reliable foot due to a bolt-less footplate design that eliminates dead spots and weak structural areas.
Enjoy more activities: Proprietary EnduraCore technology provides ideal strength, flexibility,and durability for high energy return with less fatigue.
Go more places: Available in sandal toe.

Features:

✓ Water resistant
✓ Rated to 325lbs
✓ 36-month warranty
✓ PDAC verified for L5987 & L5984
Weight (26 Cat 4, module with foot shell)
*Build height based on size 23cm, 26cm, 29cm Cat 4 foot module with foot shell and 10mm heel height. Sandal-toe available for sizes 23-28cm.
Module selection according to activity and weight