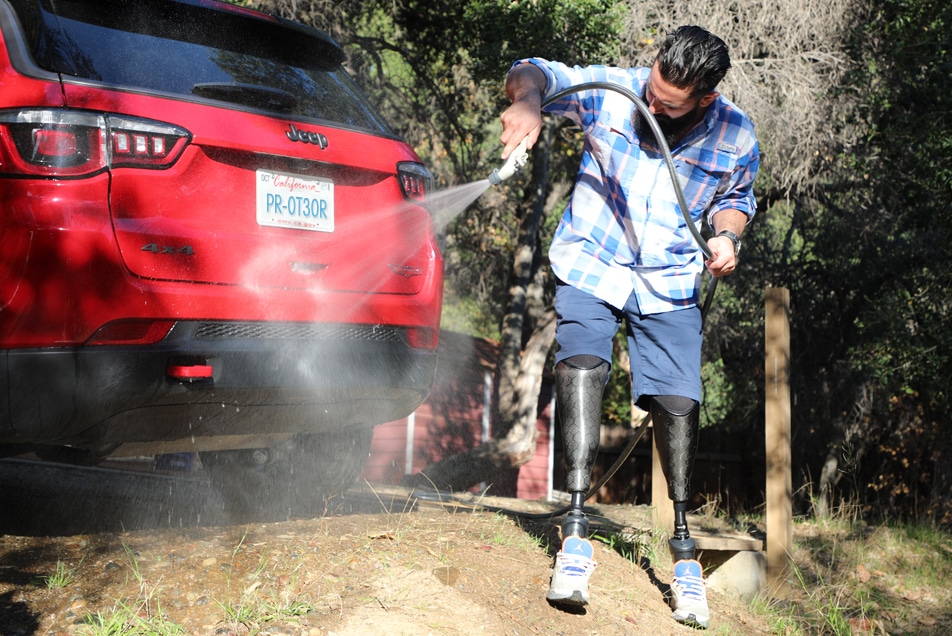 Reasons to choose PROTEOR
Our network of more than 60 centers for orthopedics across France gives every user of our devices peace of mind whenever they are away from home in France. We can ensure that the monitoring of orthopedic therapy is uninterrupted when users move house or encounter problems when away from home (e.g. on vacation).
Find the center for orthopedics nearest to you: click here
Several times a year, PROTEOR's centers for orthopedics offer users the opportunity to try out a new sport or exercise activity during product taster days. Under the supervision of prosthetists, physiotherapists and in some cases sports or fitness trainers, users can explore sports or exercise activities options they might not have previously considered. Many users rediscover sensations not experienced for far too long.
These taster days are much appreciated by everyone involved, and are a great opportunity to share information and experiences and to meet people facing similar challenges.
Typhaine Solde ran for the first time after her amputation surgery during one of these taster days… She is now in a training program for the 2024 Paralympic Games.
Some examples: Easy Run blade days, Ski days using the Easy Ride knee (see the video below), Watersports days using the Easy Ride knee and feet from the H2O Collection.
PROTEOR is continuous looking to improve, which is why it regularly seeks feedback from its users via satisfaction surveys to improve the services it offers.
Because its goal is to satisfy user requirements as well as it possibly can, PROTEOR is regularly in contact with a focus group of about fifty prosthesis users. When developing new prosthetic components and services, PROTEOR involves these users at various stages in the design process to find out what they think about the new ideas and to trial prototypes.
Orthopedics is a discipline that evolves constantly. Our prosthetists are continually kept up to date with training about new products and are certified and accredited to fit most electronic componentry.
The combination of traditional techniques and the latest technologies enables them to offer individualized solutions.
The PROTEOR Group has set up a group of prosthesis experts, comprised of about ten prosthetists, with responsibility for optimizing good practices throughout the Group.
When contacted by their colleagues within the Group, these experts readily share their technical know-how. They also provide valuable support and mentoring for the Group's younger prosthetists.
PROTEOR works closely with several centers of excellence in the field of orthopedics to design, test, analyze and validate innovative product concepts.
For example: work on cosmetic prostheses, sockets (new materials, etc.).
Our equipment solutions
The steps to get a prosthesis
Only a specialist doctor, physical and rehabilitation doctor (PRM), orthopaedic surgeon or neurosurgeon, can prescribe the first prosthesis.
Once the prescription has been obtained, you will need to make an appointment with one of our prosthetists.
Find my nearest orthopaedic centre: click here
This visit is essential in order to determine the best type of equipment for the patient.
During this meeting, it will be necessary to bring the medical elements likely to help the prosthetist in the design of the prosthesis (X-rays, surgical report, report of rehabilitation…).
The ortho-prosthetist, depending on the medical prescription, will propose different technological solutions to specifically meet the patient's needs. To do this, he will rely on :
Medical history,
The clinical assessment,
Habits and life plan: professional, leisure and sporting activities, housing, daily activities, etc.
The current or previous equipment and any difficulties encountered previously.
The prosthetist will propose, according to all these data, various solutions adapted to the needs of the patient.
A measurement and moulding of the stump by plaster application or by CAD/CAM (Computer Aided Design) will be carried out.
One or more fittings will be necessary to perfectly adapt the prosthesis. The ortho-prosthesist will check the adaptation of the fitting to the residual limb and will verify the functional adequacy of the prosthesis and the good understanding of its use.
Every 6 months, it will be necessary to make an appointment to check the technical condition of the prosthesis and to check the condition of the accessories (sleeves, sheaths, cups, gloves, etc.).
In addition, we carry out the necessary repairs to your prosthesis as quickly as possible, as well as any revisions of electronic medical devices to ensure their correct use.
In case of morphological changes, it is necessary to consult your doctor who will issue a new medical prescription to proceed with the adaptation or change of the socket.
Dedicated social networks
We have created web pages that show how users experience life with a prosthesis, by looking at their everyday routines and activities:
PROTEOR Prostheses: Expertise and Testimonials
The components
PROTEOR designs and develops a whole range of prosthetic components for orthoprosthetists, adapted to the manufacture of various prostheses.